Flash Review: Wonder
6,5/10 for Wonder by R.J. Palacio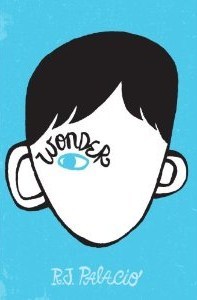 I won't describe what I look like. Whatever you're thinking, it's probably worse.




August Pullman was born with a facial difference that, up until now, has prevented him from going to a mainstream school. Starting 5th grade at Beecher Prep, he wants nothing more than to be treated as an ordinary kid—but his new classmates can't get past Auggie's extraordinary face. WONDER begins from Auggie's point of view, but soon switches to include his classmates, his sister, her boyfriend, and others. These perspectives converge in a portrait of one community's struggle with empathy, compassion, and acceptance.
Wonder is a tough book to review because I liked reading it for several reasons but on the other hand I didn't like it for just as many.
The topic is a big plus for me. Telling someones story like this is important and we need more of them.
This one is not only told from Auggie's point of view but also from the people in his life's side.
We learnt about Via, his sister, who sort of lives in Auggie's shadow and tries not to be a burden to their already worrying parents. We also see the world through the parents' eyes and some more of Auggie's friends/enemies, etc.
It portrays a variety of thoughts and experiences and shows how different people react and act in this extraordinary occasion.
I found that not all point of views were necessary to understand the circumstances and feelings that come with a child like Auggie. It doesn't need explicit saying by a character when you can tell from Auggie that he's noticed the way a person looked at him or spoke to him. Getting the confirmation from the other side is slightly pointless unless there's an underlying reason.
I thought the use of language was a little 'childish'. I understand that it makes sense given the MC is a 10 year old boy and makes it readable for a big audience. However, it also made it feel a little preachy/patronising.
Talking about preachy, everyone is so positive! Even when they are experiencing something bad or awful, they remain positive. Yes, positivity is key but it's also not realistic that anger and frustration aren't driving the steering wheel sometimes. At least they weren't written down as such and I feel that it needed some of that to feel that little bit more authentic.
When I heard this book is being turned into a movie I immediately felt (though I've not seen it yet) like it might be more up my street. I'll update once I've seen the movie.